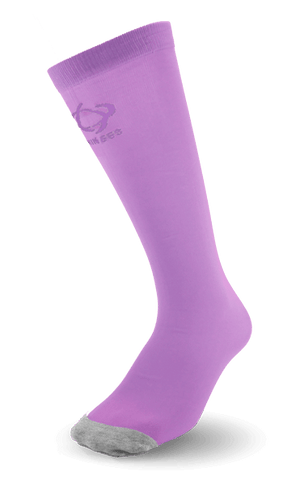 Thinees
African Violet
Skating Socks
Sale price Price $9.99 Regular price
Elevate your style on and off the ice with the awesome-est hue in skating fashion – African Violet!
Named after the vibrant and colorful African violet flower, this color exudes a sense of elegance, mystery, and creativity. Aren't you mysterious???
Experience the true essence of comfort as these socks seamlessly conform to the contours of your feet, offering a second-skin fit. Thinees are tailored to eliminate the bulkiness of traditional socks, allowing you to fully appreciate the intricacies of your skating movements. Glide effortlessly, pivot with precision, and feel every nuance of the ice beneath your feet.
97% Polyamide, 3% Cotton
Logo Color: Deep Violet
Toe Color: Gray
Thinees Sizing
Thinees' polyamide-cotton blend provides a comforting stretch to conform to your feet and lower leg. Keep in mind this stretching feature when selecting your size.
Long
Short
Junior
| Size | Length | Width |
| --- | --- | --- |
| Long | 18.5in / 47cm | 3.5in / 8.9cm |
| Short | 14.5in / 36.8cm | 3.5in / 8.9cm |
| Junior | 14.5in / 36.8cm | 2.75in / 7cm |
| Mini | 10in / 25.4cm | 2.25in / 5.7cm |
*The sizing images for Thinees Long and Short sizes are based on an average-sized adult male. The sizing image for Thinees Junior size is based on an average sized adolescent male. Please refer to the sizing chart above for precise sock measurements. Sizing can slightly vary depending on color.
*Mini Thinees are recommended for kids age 3-6.
Other styles you might like...